April 2, 2015
Daily Scripture Readings for Lent 2015 
Jeremiah 20:7-18; I Corinthians 10:14-17, 11:27-32; John 17:1-26
Last year when I worked in the hospital in Celebration, Florida, I was given a book of blessings.* The author wrote a collection of blessings for various occasions, as well as some thoughts on what a blessing actually is.
"A blessing is a circle of light drawn around a person to protect, heal and strengthen," "to invoke divine favor upon," he says (198,9). "Blessing" comes from Old English, meaning 'to sanctify or consecrate with blood' (199).
I think Jesus is giving a blessing in John 17. The lengthy passage from John 14-17, sometimes called Jesus' High Priestly Prayer, gathers Jesus' teaching, praying and counseling of his followers–about many mansions in his Father's house, the promise of the Holy Spirit, and abiding in Christ the true vine.
Now it is time for Jesus to tell his disciples good-bye: "Father, the hour has come; glorify your Son so that the Son may glorify you" (17:1).  Jesus prays to his Father, but allows us to overhear:
Holy Father, protect them in Your name that You have given me,so that they may be one, as we are one (v.11).
Now I am coming to You, and I speak these things in the world so that they may have my joy made complete in themselves (13).
I ask not only on behalf of these, but also on behalf of those who will believe in me through their word, that they may all be one (20-21).
No sooner has Jesus breathed Amen, but soldiers and police led by Judas arrive with lanterns and torches and weapons to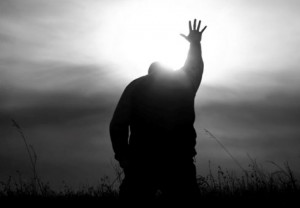 arrest him. It is time.
But before this, blessing. To remember in prayer all that his life has meant, what he has tried to do, his hopes for those he is leaving behind that they "may be with me where I am," and that "the love with which You have loved me may be in them, and I in them" (24,26).
Amazing, that in Jesus' most despairing hour, he is praying for us. Thanks be to God.
Linda Wright Simmons
Choir singing "Ah, Holy Jesus"
*John O'Donohue, To Bless the Space Between Us: A Book of Blessings. New York: Doubleday, 2008.