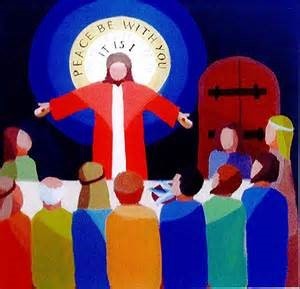 April 5, 2015  Easter Sunday Evening
Daily Scriptures Readings for Lent 2015
Psalms 113-114; Isaiah 51:9-11; John 20:19-23
When it was evening on that day…
It is Easter evening now. Are you different? Have you experienced new life today?
Maybe Easter evening brings a bit of a letdown. If so, we're in good company. That first Easter evening, Jesus' followers locked themselves indoors, afraid. In the morning, they had heard that Jesus had been raised to life, but they hadn't seen any evidence of that. If Easter morning is full of promise and hope, Easter evening is full of doubt.
Behind locked doors, the disciples huddled, minus Judas, but probably plus the myriad people who followed Jesus, women, supporters. John's Gospel makes less mention of "The Twelve," and includes a broader community around Jesus. There they are, afraid. It's as though Easter morning never happened.
If we come to Easter evening, and wonder, am I different? Is Easter over? then this text is for us. Into this sundown of hope and rising tide of doubt, Jesus comes. Somehow, behind those blocked doors, he is. "Peace be with you," he greets them.
Can you imagine?! They are either in shock, or they don't recognize him. He has to show them his hands and his side before they 'come to.' "Then the disciples rejoiced when they saw the Lord" (John 20:20b).
But Jesus isn't there for a class reunion. "Peace be with you," he says again, and this time it's not a greeting, it's a summons, a sending. "As the Father has sent me, so I send you" (v.21). And he breathes on them, "Receive the Holy Spirit" (v.22).
It's Pentecost in that locked-up room. It's a new beginning and, according to John's Gospel, the creation of the Christian community.
Whether we feel new or not, the risen Christ breathes life into us and sends us out to keep doing what he did in the world.
I have been inspired by the writing of Howard Thurman, an African American pastor and theologian, born in Daytona Beach, who went on to become Dean of the Chapel at Howard University and founder of the first interracial church in the United States–in 1944! He wrote,
Ask yourself what makes you come alive and do that.  Because what the world needs is people who have come alive.
Christ is risen! He is risen indeed.
Linda Wright Simmons
"Breathe on Me, Breath of God"