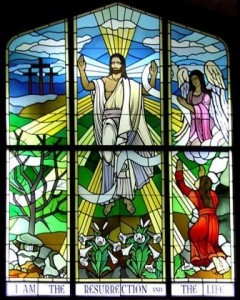 April 5, 2015  Easter Sunday Morning
Daily Scripture Readings for Lent 2015
Psalms 148-150; Exodus 12:1-14; John 1:1-18
It is here! The Day we've been waiting for and preparing for. Dan and Helen and I have lived a kind of three-daily pattern during Lent in writing these daily devotionals. Another kind of triduum, the liturgical name given to three days: Good Friday, Holy Saturday, Easter Sunday.
What are your strongest associations with Easter? I imagine many of you saying, "the Easter Sunrise service on the patio by Park Lake," the morning breeze and birdsong so quiet, the brass quartet announcing the morning celebration: "Christ the Lord is Risen Today! Alleluia!"
Or the Youth Pancake Breakfast, which wouldn't be Park Lake without Jim Bogner flipping the bacon. (Congrats, Grandpa-again-to-be!) Maybe the glorious music in worship and flower cross in the sanctuary, young and old bringing their blooms to the chancel cross.
Or childhood Easters, waking up to search for a special Easter basket laden with chocolate bunnies and Peeps. Special clothes – a special dress, hat, purse, shoes! I remember many a chilly Iowa Easter and the disappointment of layering a coat over my springy Easter dress.
What rings powerfully in my memory, though, is music. Growing up my favorite Easter hymn was "Thine Is the Glory!" I hear it powerfully coursing through the morning air: "Risen, Conquering Son! Endless is the victory, Thou o'er death hast won!" This hymn shouldn't be sung too slowly, but triumphantly and joyously. A song of victory! With God, nothing is impossible.
There is one thing certain–even more certain than taxes, and that is death. Endings, evil, brokenness, sin. David and I found ourselves driving to Maundy Thursday this week, feeling burdened by all the recent news of trouble and violence and division in the world.
But Easter changes all that. Death won't win. It won't triumph. God does see, God does behold trouble and grief, taking them into God's hands (Psalm 10:14).
Lo! Jesus meets us, risen from the tomb;
Lovingly he greets us, scatters fear and gloom!
Let the church with gladness hymns of triumph sing,
For the Lord now liveth; death hath lost its sting.
Make us more than conquerors through Thy deathless love; 
Bring us safe through Jordan to Thy home above.
 
Christ is risen! He is risen indeed.
Linda Wright Simmons