March 14, 2015
Daily Scripture Readings For Lent 2015
Jeremiah 13:1-13, Romans 6:12-23 , John 8:47-59
"…present your members to God as instruments of righteousness. For sin will have no dominion over you, since you are not under law but under grace." Romans 6:14
Sometimes I miss the messages that are right in front of me. There's a street sign I drive by on the way home everyday that reminds me that our city is a "Tree City USA." I've always known the town is known for its beautiful tree canopy. What I didn't know was there was a national designation for cities "committed to encouraging the proliferation and preservation of trees."

We have four beautiful, mature oaks in our yard. That they are IN our yard is a story in itself. Our home was built in 1970 by an area judge and his wife. The neighborhood association at that time was planting laurel oaks in the easements between the sidewalks and the road. Mrs. Judge wanted her oaks IN her yard, close to the house to provide better shade. She prevailed in her request. It's a subtle difference, but apparently hers was the only house in the neighborhood which got this exemption. The trees are tall and beautiful and the squirrels love the ease with which they can jump from tree to roof.
45 years later, just 4 weeks ago, the city decided that it really did want to put trees in our easement. Crews showed up without announcement and began taking down aging laurels and putting up young trees: an oak here, a crape myrtle there, here's a dogwood, there's a tabebuia. Unannounced and random. I didn't like it. In a strange moment of confidence, perhaps channeling Mrs. Judge, I approached the landscape contractor as his crew was digging into my easement. "Do I have a choice about this?" I asked. "If so, I don't want these trees. I have trees." He responded, "M'am I'm just the contractor. The city says to plant these trees as part of the Tree City USA commitment. But look," trying to convince me with a scraggly stick they were planting, "You get a dogwood. They're beautiful. and this is a, uh," He flipped through sheets on his clipboard, "This is a tabebuia." "A tabebuia!" I said throwing up my hands, " I hate tabebuia trees, and this other stick of a tree cannot possibly belong here!" He nodded and got in his truck, leaving his poor work crew to deal with my glares.
I have ignored those trees for 4 weeks. or I have stared them down. I have stood in front of them and crossed my arms refusing to participate in watering them, and willing them to wither up. But in spite of my crossed arms, my cross attitude, my cross-wise glares, those trees are flourishing in their new home. And this week I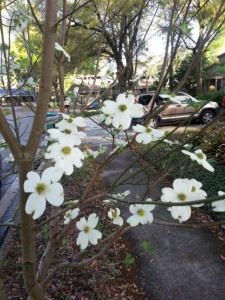 walked out into a beautiful morning greeted by the most tender bloom of dogwood on this scraggly stick. And a couple of days later, the tabebuia echoed its joy with beautiful yellow petals. I melted. They are beautiful. and I have spent so much of my energy being angry about something I could not control. In this change there is actually blessing.
This scripture in Romans about presenting our bodies to God, seems so opposite of those moments I've crossed my arms over many changes in my lives because they were not my idea, because I couldn't control things. I can't imagine that with arms crossed I look like an instrument of righteousness. A lesson to me in these young trees outside my home is that God both sees our resistance and knows our hearts – the places we struggle and places of deep need – and God leads us into moments of grace, providing us with more than we have ever imagined.
#You-can't-always-get-what-you-want
#sometimes-you-get-what-you-need
Helen DeBevoise