March 15, 2016 
Daily Scripture Readings for Lent 2016
Beware the Ides of March!
Today is known as the Ides of March. (see History.com article What Are the Ides of March?)  It marks the day of the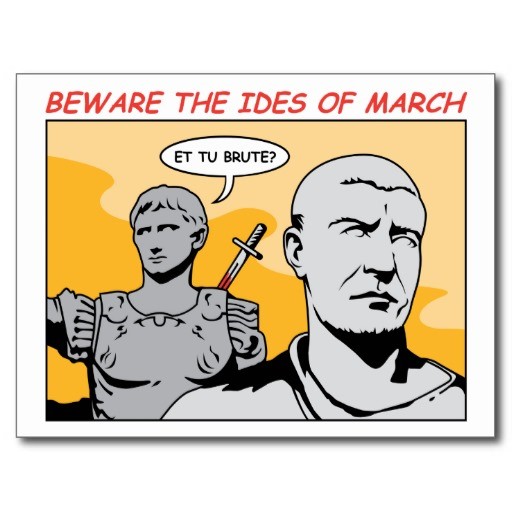 assassination of Roman Emperor Julius Caesar. Concerned with Caesar's increasing power and monarchical leanings, a group of Roman senators stabbed the ruler to death 23 times on March 15, 44 B.C. – forever linking the Ides of March with the assassination of Julius Caesar.
Jesus is obviously more aware of his future than Caesar was. We say that in the stories of Lent "Jesus's face is set toward Jerusalem." Jesus is fully engaged in the growing tension surrounding his ministry. This is the third time that Jesus is being as perfectly plain as he can be: He will suffer. He will die by crucifixion. He will be raised from death. But it might as well have been in code. Even those closest to him are not getting it.
Today's scripture centers of James and John's mother, Mrs. Zebedee. She wants what every mother wants for their child – the best. It is a pitifully sad picture of someone who is not paying attention. If she heard, REALLY heard, that Jesus's kingdom will lead to great suffering, even death, would she have asked for first class tickets for her two boys? Unlikely.
The disciples are no better. They are indignant at Mrs. Z's request, not because she was getting it wrong, but that she thought to ask before the rest of them did!
In my initial reading I remembered two others who were on the right and left of Jesus: the two thieves on the cross Matthew 27:38+ and Luke 23:33-43.  Jesus has the same reaction as to the disciples' request, "Lord, they don't know what they do."
Jesus reiterates what he's been teaching all along: Leadership in the Kingdom of God begins low. At the last seat. Serving, not pontificating.
It's election day in my state today. I can't help but think of all of the back and forth barbs that are being thrown between federal and local candidates. I can't help but think of Jesus shaking his head and praying a sigh: "Lord, they don't know what they're doing."
What if we heard something different, something humble? Surely that would shake things up.
Prayer: Lord God, you lead us by example. O Help us to pay attention and be bold enough to act on what we see in your Christ. Amen.
Helen DeBevoise