March 16, 2016 
Daily Scripture Readings for Lent 2016
Can you drink the cup that I am going to drink?
The disciples James and John had no idea what they were asking, to be "elevated" to seats beside Jesus in his glory. They missed the message of servanthood, they passed over predictions of suffering to come. "Promise us a seat with you forever, Jesus!" they ask, giddy like puppies.
Can you drink the cup that I am going to drink?
This passage came alive for me through the reflections of the late priest and spiritual author Henri Nouwen, who wrote a book on this question from Jesus.*
Nouwen suggests that we each have our own cup to drink, and like Jesus's cup, ours contains both joy and sorrow; we are called by God to drink it all the way down. It's our nature to want the joy without the sorrow, and even Jesus in Gethsemane prayed that the cup he was handed be traded for another: "Abba, Father, for you all things are possible; remove this cup from me" (Mark 14:36).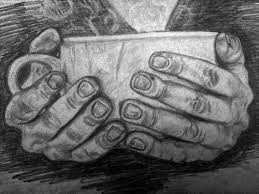 Nouwen writes,
Drinking the cup of life is fully appropriating and internalizing our own unique existence, with all its sorrows and joys. It is not easy to do this. For a long time, we might not feel capable of accepting our own life; we might keep fighting for a better or at least a different life…. Sometimes we want to do every possible thing to change the circumstances of our life. We wish we were in another body, lived in another time, or had another mind! A cry can come out of our depths: "Why do I have to be this person? I didn't ask for it, and I don't want it…."
The great figures in history looked deeply into their cups and drank from them without fear. Whether they were famous or not, they knew that the life which was given to them was given to live to its fullness in the presence of God and God's people and thus bear much fruit. They needed to make it bear fruit. Jesus, the carpenter's son from Nazareth–"Can anything good come from Nazareth?" people asked (John 1:46)–drank his cup to the bitter end. All his disciples did too, different as they may have been (pp. 81-83).
In faithfulness to God, let us drink our cup all the way down, giving ourselves completely, after the manner of our Lord "who came not to be served but to serve, and to give his life as a ransom for many" (Mark 10:45)
Prayer: Lord, by your grace, may I receive the cup of my life with gratitude. Open my eyes to the unique life you have given me. May I serve you and the world through it. In Jesus' name. Amen.
Linda Wright Simmons
*Can You Drink the Cup? Henri J.M. Nouwen, Notre Dame, Ind.: Ave Maria Press, 1996.