March 17, 2015
Daily Scripture Readings for Lent 2015
Jeremiah 17, Romans 8:1-11, John 6:27-40
"For there is no condemnation for those who are in Christ Jesus." Romans 8:1

Today is St. Patrick's Day and that shouldn't really make a difference to this American Protestant. Still, I'm likely to wear green today (if only a hint), and I'll probably make corned beef and cabbage for dinner.
St. Patrick was one of the foremost patron saints of Ireland, credited with bringing Christianity to that country. His feast day was made official in the early 1600s and has come to be a time of celebrating Irish culture as well its faith. And here's a good reason to be Irish: all Lenten restrictions of food and drink are trumped this day in favor of the frivolities of celebration.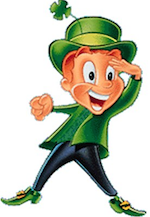 Our children, during nursery school years, learned the St. Patrick's Day practice of devilish little leprechauns who would wreak havoc on their classrooms. The spaces were often turned topsy turvy while the children were out at play. There would be squeals of delight as they returned to find tables and chairs turned over and books pulled off shelves. It was wonderment that something so magical (even if destructive) could be happening in their ordinary spaces.
Though our children grew out of preschool, they didn't grow out of the St. Paddy's day fascination, so we invited the leprechaun tradition into our home. They would set traps to see if they could catch one. They set elaborate contraptions of strawberry baskets and books and string, luring the little devils by piles of peanuts. Catching a leprechaun meant they would get a gift in trade for letting him go. The children loved to think of small sprites dressed in green dancing around the kitchen in the wee morning hours.
For my part, I loved their imagination, the irony was that I had to intentionally wreck my kitchen after they were asleep to perpetuate this charade – the more havoc, the more upturned chairs and out-turned garbage, the more delighted the children would be imagining those leprechauns jumping around and dodging their clever traps. Though they never caught one, the children always were rewarded by the little green guys in gratitude for a night of joyful play.
Yesterday, Dan invited us to ponder if, in the name of faith, our lives are more frenetic activity of running from one thing to the next, or looking for order and for meaning. When Paul writes to the church in Rome he's addressing a new church which finds itself in between worlds: Life in the flesh is influenced by rebellion and idolatry, topsy turvy, at the whim of selfish desires. On the other hand, life in the Spirit of Christ, on the other hand, is a life set free from bondage to self. Life that is under the Lordship of our Creator is a life of love and freedom to live into the fullness of all that God desires.
Sometimes my life feels upside down and turned around and I have to wonder where I'm placing my confidence. How can I find some sense of peace that one day's, or one month's or even one year's upheaval doesn't define every day? In spite of the topsy turvy, complicated moments of my days, God through Christ takes me to a level place.
Lord, I hand You my day. Whatever it may bring, help me to find peace by remaining in Your loving presence. Amen.
Helen DeBevoise