March 18, 2015
Daily Scripture Readings for Lent 2015
Jeremiah 18:1-11; Romans 8:1-11; John 6:27-40
As a child, our daughter Mary Ella did not "chill out" easily. By the third day of summer vacation, she was bored. "Let's take a class at Joann's," I offered; if she had a project to work on, maybe she would keep herself busy.
It turned out the only class available was Knitting 101, and she and I were the only students. We wanted to knit on fancy fluffy yarn, but our teacher Peg said, "No, go back and pick some plain chunky yarn and big needles." Alas.
At first, it was slow going. At the end of a row, we'd dropped a stitch, and a hole opened up. I began to purl where I should have knit, and a trench appeared. Peg was patient: "Just rip it out and start over. Knitting is very forgiving."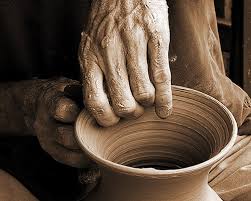 When I read Jeremiah, I thought of Peg's theology of knitting. Jeremiah visits the potter at his wheel, but the vessel the potter "was making of clay was spoiled in the potter's hand, and he reworked it into another vessel, as seemed good to him" (18:3-4). Yarn can be reworked, like clay, and people.
"Can I not do with you, O house of Israel, just as this potter has done?" says the Lord (vs.6). If the people of God are not turning out as God has hoped, God reserves the right to re-form them. In Jeremiah's case, this was dire: if the nation does not turn from its stubborn and evil ways, then God may "pluck up and break down and destroy it" (v.7).
This is bad news: our actions have consequences, and we reap what we sow. But it is also good news: "if that nation…turns from its evil, I will change my mind about the disaster that I intended to bring on it," says the Lord (v.8).
When I was a new mom, I read a lot (when I could) about the spirituality of motherhood. One writer reflected on the significance of bath time. The gist of her reflection was how amazing it is that we human beings were created to be washable! What if we played in dirt, and it wouldn't come off? What if we finger painted, and our hands stayed red and blue and yellow? What if we hurt someone, and there were no way to be reconciled?
Praise God that we were made washable. That we can be reshaped in the skilled hands of our Potter. We can back up and pick up a dropped stitch. Or start over, and be made new.
Linda Wright Simmons