March 20, 2015
Daily Scripture Readings for Lent 2015
Jeremiah 23:1-8, Romans 8:28-39, John 6:52-59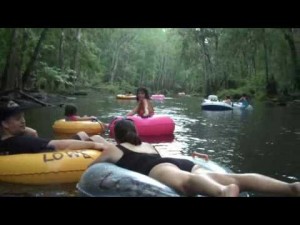 When I was a young adult I was put in charge of a group of 10-12 year olds at a Church summer camp. We were tubing on the Alafaya river. I need to mention that part of the charm was that alligators were known to "hang out" there. The alligators were not a deterrent for seasoned tubers, however. As long as you were aware of the dangers, I was told, this would a very fun experience. My co-counselor, a guy experienced at Florida river tubing, led the way. Between us were 14 preteens. I pulled up the rear. Twice we had to pull over to the side because of an alligator tacking back and forth down river from us. Never more had I felt aware of weightiness of my responsibilities and that I was in charge of someone else's children.
The core of Jeremiah's prophecy is against Israel, is to the leadership who have gotten lazy and abused their power. Meant to be the shepherds of Israel, those in charge saw their position in terms of privilege more than responsibility. Instead of tending, they had destroyed and scattered God's sheep. The result? The crumbling of a strong nation – God's children. "Woe to you…now I will raise up shepherds over [the flock] who will shepherd them. They will fear no longer. Or be dismayed. No longer shall any be missing, says the Lord."
In an earlier devotion, Linda Simmons referred to Dr. James Forbes who preached at Park Lake a couple of Sundays ago. Dr. Forbes charged that our strength as a church, as a community, will be in how we treat one another. We need to look at one another differently. "When you look to the person next to you I want you not to see their color or their gender or their degree or their economic status: I want you to see what God sees: written across their foreheads are these words – HANDMADE BY GOD."
What if we practiced that? What if we practiced looking at the other person as God sees them – his own sheep. Valued. Capable. Loved. How would that change how we treated them? And how would that be a catalyst to bring life-giving change to our communities?
Helen DeBevoise
Lord, you have claimed me by your love. You give me charge to carry the message of your love and grace to your people. May my words and actions reflect the change you've made in me. Amen.
The King of love my shepherd is,
The King of Love My Shepherd Is
The King of Love My Shepherd Is
Whose goodness faileth never.
I nothing lack if I am His,
And He is mine forever.
Where streams of living water flow,
My randomed soul He leadeth;
And where the verdant pastures grow,
With food celestial feedeth.
Perverse and foolish, oft I strayed,
But yet in love He sought me;
And on His shoulder gently laid,
And home, rejoicing, brought me.