March 25, 2016
Daily Scripture Readings for Lent 2016
Looking at the liturgical color suggestions in the Presbyterian Planning Calendar, the suggestion for Good Friday is "bare" as in "no color." (Some churches opt for black or deep scarlet.) Liturgical color is often on the mind of worship planners–especially as we move from the season of Lent to Holy Week to Easter.
As I write this, I have been obsessively listening to Kendrick Lamar's Grammy-winning 2015 album To Pimp A Butterfly. As a hip hop record, it deals with color almost by default. Lamar colors his rhymes with his experience growing up in the notorious city of Compton, south of Los Angeles. As one living on the opposite coast and in an opposite cultural world (read: Presbyterian, middle class, overwhelmingly white), my first listen was colored with negative reactions to the language and the experiences that Lamar shares.
But as I listen again and again, what really stands out is the raw creativity, both in lyricism and musical arrangement. Kendrick is a gifted storyteller. He weaves his experiences with his imagination to produce the world as it is and the world as it could be. The raps and the interludes explore both his early struggles simply surviving on the streets of Compton, and the uncertainty he feels in dealing with his new-found fame. Hip hop success is not all bluster and bravado!
Even for a hip hop/rap record, Lamar makes some unorthodox choices for lyrical flourishes, musical themes and accents. Thus, with every listen, I discover something new. For example: the standout track How Much a Dollar Cost?, which I only later discovered was President Obama's favorite song of 2015, appears late in the album. So it might be easy to miss the story that it tells. (Find the lyrics here; note there is one curse word and two uses of a racial epithet.)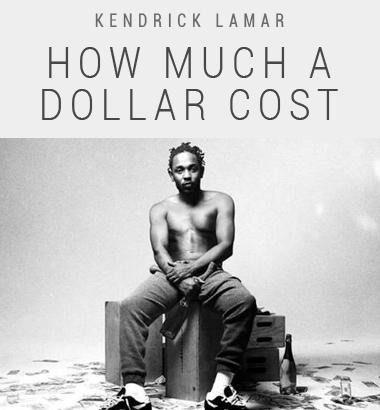 That story is Kendrick's gas-station encounter with a homeless man. Lamar dismisses his plea for a solitary dollar–but then the man turns out to be God in the flesh.
That theme–of recognition of the presence of God, face to face–is a frequent one in the gospels, as people either immediately know who Jesus is (though often by virtue of demon possession!) or who may take a little longer to figure it out. In today's Good Friday (God Friday?) lesson, Pilate is obsessed with Jesus' identity, but he never figures it out.
Likewise, the Roman soldiers crown him King of the Jews for their amusement, but they don't discover who Jesus really is.
The chief priests, the elders, the scribes–indeed, the whole council of the Jewish people–cannot get past the threat to their self-interest when evaluating who Jesus is, and hand him over to the Romans. They show up later to mock him as well, joining both the scoffing passersby and even those being crucified with Jesus.
Of those who were not counted among his disciples, the only one who is blessed with recognition is the centurion "who stood facing him" and who watched him die.
Isn't that interesting? In this story, recognition of the God-ness of Jesus comes only at the moment of his death.
When and where do we recognize God today? In the living? In the newly dead? Or would we rather not be challenged with recognition, and with the life changes that it demands?
In The Atlantic review of "To Pimp a Butterfly", Spencer Kornhaber writes of the track "How Much a Dollar Cost?": "Among other things, the transient deity tells Lamar, 'your potential is bittersweet.'" Is this how God sees me? Sees you? Sees Park Lake PC, or whatever context you serve?
On this "God" Friday, the challenge is to recognize the presence of God in our midst. For that, some practice is required. Picture our Lord as a homeless wanderer seeking a solitary dollar, and pray, using these closing words from the Kendrick Lamar track:
I wash my hands, I said my grace, what more do you want from me?
Tears of a clown, guess I'm not all what is meant to be
Shades of grey will never change if I condone
Turn this page, help me change, so right my wrongs
Amen.
Teaching Elder Candidate Jody Mask