March 27, 2015 
Daily Scripture Readings for Lent 2015
Jeremiah 29:1(2-3)4-14; Romans 11:13-24; John 12:1-10
How do you get ready for someone you love to die?
Sometimes we have no opportunity to prepare. Other times, we do have the opportunity, but may not take it. A very ill patient I met as a chaplain was wrestling with whether to try more treatments, though they had not worked, or whether to go home with hospice care. "What do you really want in this time in your life, whatever time you have?" I asked her. She didn't hesitate: "I want to go home and make memories with my family." And so she did.
In John's Gospel, by chapter 12 we know that the plot is moving toward Jesus' arrest during Passover. "Six days before Passover" Jesus comes to the home of his friends, Lazarus and his sisters Martha and Mary, which will be the last event in Jesus' life before Holy Week begins.
What an emotional time: Lazarus, whom Jesus raised from the dead, and his sisters host a dinner for Jesus. "Martha served"; imagine her intense preparation to create a special meal for her dear friend, their "last supper" together. Mary brought "a pound of costly" perfume, and anointed Jesus' feet with it, wiping his feet with her hair.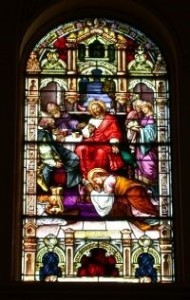 In John 13, Jesus will wipe his disciples' feet with the same gesture as Mary, taking a towel from around his waist (13:5). This tender act of humility, care and love by Jesus is enacted by Mary for him before-hand.
The year my father died, we became aware of his making a journey toward death; he began to dream of his mother and sister, he spoke of taking a bus trip and needing to be sure he had his ticket. So, as my visit in Iowa was drawing to a close, I forced myself to close his door and kneel by his wheelchair. I told him everything he meant to me, how he had shaped me, and how very much I loved him. I wanted to be sure he knew that, and I had to be sure I told him.
It wasn't my last visit with my dad, but he died several months later. It was so hard to tell him good-bye, but so precious to me.
Judas tries to throw cold water on Mary's loving act, but Jesus shuts him up. "Leave her alone. She bought it so she might keep it for the day of my burial. You always have the poor with you, but you do not always have me."
Sadly, some have used this passage to focus on Jesus' prediction that we will always have the poor with us, as though he didn't care about ending poverty. That is not borne out by his ministry or teaching. He recognized Judas wasn't legitimately concerned about the poor, only greedy for more money to control.
Mary sees that time is short. Life is fragile and precious. There may not be another chance to say, I love you more than anything.
What language shall I borrow to thank Thee, dearest friend,
       For this Thy dying sorrow, Thy pity without end?
     O make me Thine forever; and should I fainting be,
      Lord, let me never, never outlive my love to Thee.
Linda Wright Simmons