March 30, 2015
Daily Scripture Readings for Lent 2015
Jeremiah 11:18-20, 12:1-16(17); Philippians 3:1-14; John 12:9-19
Paul the Apostle, who founded many of the churches across the Mediterranean world in the first century, had every reason to boast. His "confidence in the flesh" reads like a résumé that rises to the top of the stack. Or a college essay that shouts out "Pick me! Pick me!"
"Circumcised on the eighth day (Check √), a member of the people of Israel (√), of the tribe of Benjamin (√), a Hebrew born of Heb-rews (√); as to the law, a Pharisee (√)" (Phil. 3:5). Paul's resume was impeccable. He even has anecdotes to demonstrate his creden-tials: "as to zeal, a persecutor of the church; as to righteousness under the law, blameless" (v. 6).
Surely Paul is the picture of success.
Except that these are nothing, a complete loss, a zero, compared to what he has gained through Jesus Christ. He has lost his position in the Jewish community, and as far as perfectly keeping the law, well, he ends up in jail on a frequent basis.
But Paul says an amazing thing in Philippians 3: He has lost "all things," but it doesn't matter at all, in light of knowing Christ Jesus the Lord, being "found in him" (8-9).
Have you experienced in your life such a profound sense of "being found" in Christ? When I was 17, I went to the Presbyterian Youth Triennium in Bloomington, Indiana. It was my first time surrounded by 5000 other Presbyterian young people, singing, praying, laugh-ing, crying. I had never experienced such a powerful and deep belonging to One greater than I, whom others knew and loved also.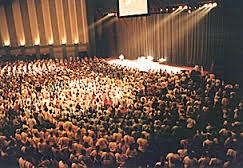 The memories, inspiration, and friends from the Triennium stayed with me for long after that June. I was on my way to college that fall, and began to read the Bible with new fervency, hungry to know God more deeply.
Paul says, "I want to know Christ and the power of his resurrection and the sharing of his sufferings by becoming like him in his death, if somehow I may attain the resurrection from the dead" (10-11). He hasn't achieved this, he admits, but his highest goal is to "make it may own, because Christ Jesus has made me his own" (12).
I don't know anyone or anything better to belong to than Jesus Christ as our Savior and Lord. He is the Friend of sinners, the Good Shepherd who gives his life for his sheep, the Victor over death, the Door to eternal life.
God and Father of our Lord Jesus, this Holy Week may we lay aside every earthly allegiance in order to belong first and foremost to You in Christ Jesus our Lord. By his power may we, like Paul, press on toward the goal for the prize of Your heavenly call in Christ Jesus (13-14). Amen. 
Linda Wright Simmons
"When I Survey the Wondrous Cross"