March 31, 2015
Daily Scripture Readings for Lent 2015 
Philippians 3:15-21, John 12:20-26
"Sir, we wish to see Jesus."  This is what a group of Greeks who were in Jerusalem when Jesus rode into town on Palm Sunday said to Philip. Maybe they saw the commotion of the Palm Sunday parade. Maybe they heard that Jesus raised Lazarus from the dead. The Pharisees are frustrated and angry about Palm Sunday's spectacle and say to each other, "You see you can do nothing. Look the whole world has gone after him." The Greek inquirers confirm this: "Sir, we wish to see Jesus."
I think we say the same thing to ourselves daily: I wish I could see Jesus. Wouldn't it be wonderful to have the confirmation and assurance of being able to see Jesus – just like the Greeks asked Philip if they could see Jesus.
"See" is an important word in John's gospel. From the beginning to the end, John uses this word to coax his readers to ponder the meaning of faith and belief in Jesus. Here are a few examples.
At the very beginning, when two of John the Baptist's disciples ask Jesus where he is staying, Jesus invites them to "come and see".  (John 1:39)
Jesus tells the crowd, he has fed the day before, that they are only following him because they were fed by him. Unless you see signs and wonders, Jesus said, you will never believe. (John 4:48)
Jesus heals a man who was blind from birth and it causes a great controversy among the man's family, his friends, and the religious leaders. How did Jesus do this and who is he? Is Jesus from God or is Jesus a sinner? The blind man says, you can argue all you want. All I know is I was blind but now I see. Jesus says that the leaders who claim to be able to see (to have all the answers) are the ones who are really blind (to who Jesus is). (John 9)
When Peter and John run to Jesus' tomb on Easter morning, John gets there first, but he stops at the entrance. Peter goes in and sees the burial cloths. Then John goes in too. We're told, "he saw and believed." When Mary brought her Easter news to the disciples she said, "I have seen the Lord."  (John 20:8,18)
When the disciples tell Thomas they have seen Jesus, Thomas says, unless I can see and touch I won't believe. When Jesus appears to Thomas and the disciples, Jesus says to Thomas "put your finger here and see my hands."  And then Jesus says to him, "Have you believed because you have seen me? Blessed are those who have not seen and yet have come to believe." (John 20:24-29)
In John's gospel, seeing isn't always believing, but believing requires being able to see, to understand and trust that Jesus is God; Jesus is the essence of God's love and power to give abundant eternal life.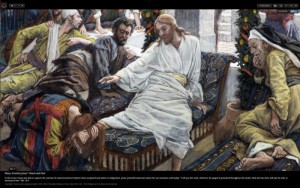 Over the next few days, we will be leaning forward to see Jesus as we remember the events of the last week of Jesus' life. We will imagine the scenes in our minds. We may see powerful pictures and works of art depicting Jesus. We will read and hear words of Scripture telling us what happened.
Maybe, in some way, we will ask the same thing: "Sir, we wish to see Jesus."  Maybe we will utter the same prayer: I wish I could see Jesus in my life.
Jesus said,  "Before long, the world will not see me anymore, but you will see me. Because I live, you also will live."
We can see Jesus in our lives. But not as a robed figure who steps off of a painting to sit down at our table at home, or walk in the door of church. Jesus can be seen in our lives – in the way that his life infuses our lives with love, grace, forgiveness, healing, peace. Jesus can be seen as our lives are shaped into the image of his life day by day. "Because I live", Jesus said, "you also will live."  Where are you most fully alive with the life of Jesus?  Look there.
Prayer:  "Lord, help me to see you. Help me to live by your love, by your power, by your spirit….so that I can see you."  
Dan DeBevoise