March 5, 2015
Daily Lectionary Readings for Lent 2015
Jeremiah 4:9-10, Romans 2:12-24, John 5:19-29
"For it is not the hearers of the law who are righteous in God's sight, but the doers of the law who will be justified."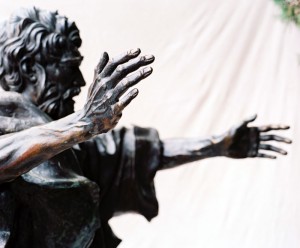 What makes a preacher "great"? For purposes of this listing, the primary characteristic seems to be the influence that preacher had on the church and on the wider society. Preaching Magazine named the 10 Best Preachers of the 20th Century. They are :
1. James Stewart
2. Bill Graham
3. George Buttrick
4. Martin Luther King
5. Harry Emerson Fosdick
6. G. Campbell Morgan
7. William Edwin Sangster
8. John R. W. Stott
9. D. Martyn Lloyd-Johns
10. Clarence McCartney
I have read or heard sermons of probably the top 5. I know the names of the others, but not their words. Who would you add? You probably have heard preachers whose words stirred your heart and those who put you to sleep. And maybe a single preacher has effected both of those reactions from you.
In Chapter XVII of his Rule of 1221, St. Francis of Assisi told the friars not to preach unless they had received the proper permission to do so. Then he added, "Let all the brothers, however, preach by their deeds." From this rose a phrase we often attribute to Francis, "Preach the gospel always. If necessary use words."
In Romans today, Paul is concerned that Jewish Christians not lord the Law over newly converted Gentile Christians, preaching to them rules and regulations that they themselves had trouble upholding. Watch your words, Paul cautions, And watch your actions also.
What is the value of preaching if not to point the way to God? "The time is coming and is now here when the dead will hear the voice of the Son of God and those who hear will live." John 5:25
Lord, May the words of my mouth, the meditation of my heart, and the actions of my life, be acceptable in Your sight.
Helen DeBevoise