March 6, 2015
Daily Scripture Readings for Lent 2015
Jeremiah 5:1-9; Romans 2:25-3:18; John 5:30-47
"Order in the court!"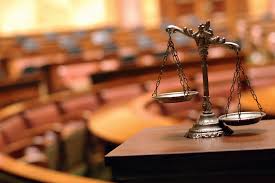 John 5:30-47 is a courtroom scene. My study Bible tells me that according to Jewish law, a man couldn't serve as his own witness. (Not sure about women.) He must present other witnesses to confirm his account or defense.
Jesus as his own defense attorney presents the witness of John the Baptist "who testified to the truth" (5:33). He offers his own works "that the Father has given me to complete," as part of his testimony that indeed, the Father has sent him.
If we had to defend ourselves as Christians, what testimony would we offer? Would my calendar uphold my claim to follow Jesus? My checkbook or credit card statement? Would my family and friends be good witnesses? My enemies?
Most of us hope to steer clear of courtroom and trials (no offense, wonderful Park Lake attorneys!), and shudder at the thought of having to defend ourselves against judgment. Especially judgment of our Christian faith, knowing we fall far short.
Lent is a season to look honestly at our falling short, and seek forgiveness. Yet even in Lent, let us never forget what Paul proclaims:
the righteousness of God through faith in Jesus Christ for all
who believe…since all have sinned and fall short of the glory of
God; they are now justified by his grace as a gift, through the
redemption that is in Christ Jesus (Romans 3:22-23).
Linda Wright Simmons