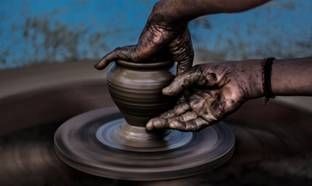 The Potter's Hand – Art and Discerning God
Potter's Hand is a creative ministry of Park Lake Presbyterian Church. In our monthly gatherings, we explore new art techniques, learn from other gifted artists, engage ways of understanding and articulating faith and beauty side by side.
FAVO artist, Bob Smedley, will be with us to show his art and describe his extraordinary art techniques done primarily with paper. Participants will be invited to create their own art using this technique.
Please email Helen DeBevoise, helenparklake@gmail.com, for more information and to RSVP to ensure enough supplies.
Come early – 5:30 pm – with a bag supper for fun conversation!
ALL are welcome!